Wednesday, 16th September 2020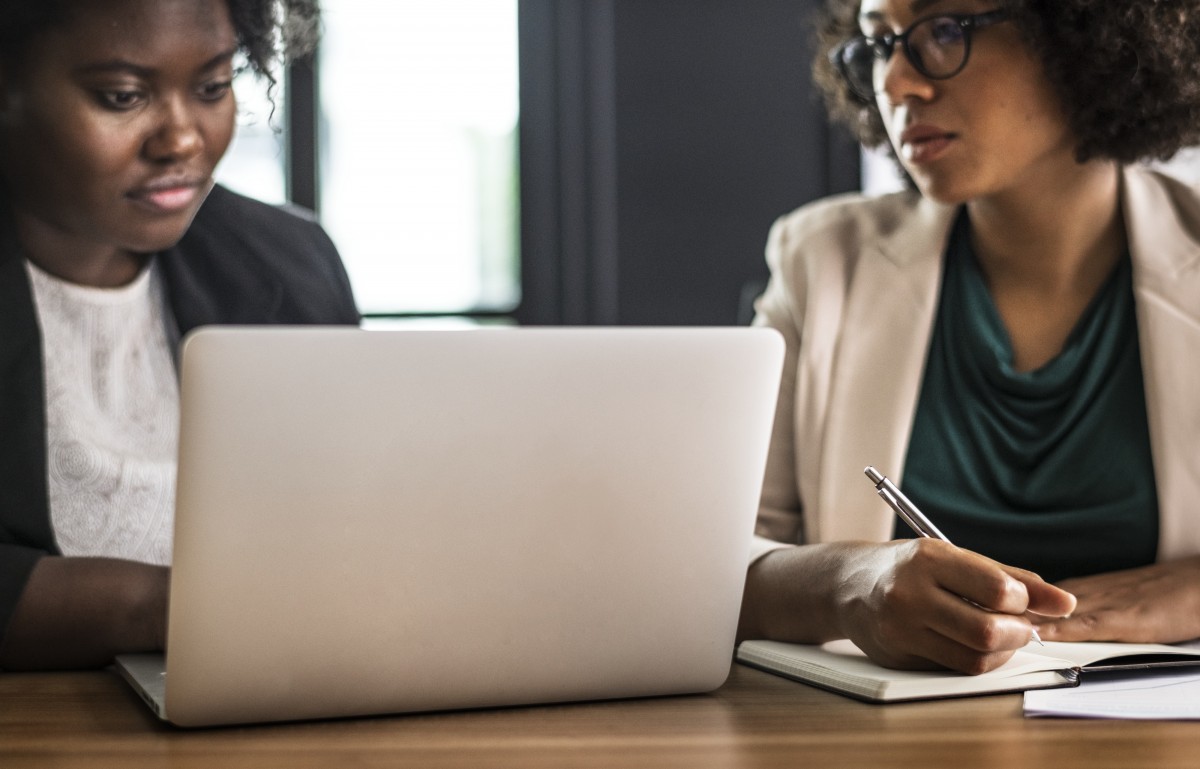 Image courtesy of CC-0 Source: pxhere.com
You have been teaching, but what have you been assessing? Can assessment also be about teaching? How do you know students have learned?
It is easy to forget that instead of being separate processes, teaching and assessment have a close relationship – they complement one another and comprise a holistic educational process. COVID-19 has prompted an increase in online interactions with our students. As a result, many educators have had to adjust their teaching and assessment strategies. In this article, we explore online activity-based assessment to support teaching and learning.
Assessment and Feedback
Perhaps one of the most challenging aspects of distance learning and emergency remote teaching during COVID-19 has been the aspect of assessment. In addition to putting your course materials online, you may have been anxious to confirm what students know, and demonstrate whether or not they have met curriculum outcomes. In other words your focus may have been on assessment of learning rather than assessment for learning. We have heard of cases, for example, where students have been allowed back onto campus to do exams, with little or no support for learning in preparation for those exams. It is certainly not fair, reliable, or valid assessment practice to expect students to come and write an exam when they have not had the opportunity and support to work through the activities and content leading up to that exam. Some institutions have managed to implement some form of online learning. Often, however, this has taken the form of asking students to read a textbook and submit an assignment. This is not necessarily very helpful for students struggling in this environment.  
If learning is reduced and less meaningful, what are you assessing?
Stop worrying about testing and start thinking about learning
In a post on Inside Higher Ed, in response to the pandemic, Jody Greene writes:
'By attempting to replicate in-person assessments in online settings, we fail to recognize that a change of medium may require a change of design. Especially if your instruction is interrupted close to the time of finals … don't immediately jump to the conclusion that you can or should just "put the final exam online." Sorting students and rigorously determining what deserves an A-minus as opposed to a B-plus may not be the most urgent business in the face of a global pandemic. … Think outside the parameters of your original assessments and ask the question, what can we do here that keeps learning happening? What if our first priority in an emergency is not completing testing but giving an opportunity for students to integrate and demonstrate their learning? ... Consult your campus disability resource center to make sure you maintain accessibility and equity.'
Challenge yourself to think about assessment differently. But how do you do that? There are two important considerations.
Learning is more important than assessing in this context.
Students need support and feedback
Support Learning
Give students something meaningful to do, preferably supported by communication with their peers and yourself as educator. Primarily the challenge is to find ways of introducing activities into the design of your materials. Rather than just reading text books, lecture notes, and PowerPoint presentations, ask students to critically engage with a reading, analyse case studies, create diagrams, tables or summaries, or conduct observations and interviews.
Students can also support each other. Encourage them to set up their own study groups, if necessary via WhatsApp or email. Build some kind of collaboration into the activities you set, creating and sharing the products of their studies, reflecting together and giving each other feedback.
Be there for students. Write your voice into the materials and engage in a written conversation with them. Ask questions and challenge students to respond in a variety of ways. Try to set times when students can contact you to ask questions and feel your presence, and clarify how they should do so. If you ask them to send you WhatsApp messages, make sure the messages come through, if you give them the option to email make sure you respond to the emails within the agreed turnaround time. It is frustrating for students to send messages or emails to which they never get responses.
Understand the value of formative assessment
Usually the focus is on summative assessment. This often takes the form of an assignment or a written exam after students have completed a section of work. Traditional summative assignments may be more challenging for online students, particularly. Online learning and assessment require more self-direction and self-motivation. Many students are still developing skills like time management. Most institutions have a Learning Management System (LMS), but, if your students only have intermittent access to the internet, they will not necessarily be able to do assessments online on your institution's LMS.
Formative assessment is an activity, or set of activities, designed to support and enhance learning. It requires ongoing feedback to allow students to see their mistakes and fix them with guidance. This supports cognitive development. Once you have integrated activities into students' learning, you have already begun to shift the focus to more formative kinds of assessment. An activity such as a quiz can be designed in a way that students engage with a base reading, do the quiz alone, and then compare their thinking with the feedback you provide. Provide written commentary on the activities against which students can check their own understanding. This can be followed up with a conversation between students about their responses. In this way, there is individual study, self-assessment, peer collaboration and formative assessment all built into one activity. This is learning and assessment.
As an exercise for yourself, consider each of the following statements. Are they true or false, in your view?
Note: Scroll down within the block below to complete all eight questions
All these strategies encourage communication, negotiation, and collaboration. Students use feedback they receive on their formative assessments to understand how well they have learned and where they need to focus to prepare for summative assessments. They are also motivated to continue engaging with the course.
Consider integrated summative assessment
In a context where students are not face to face with you or each other, and do not have a reliable connection to the internet, traditional summative assessments can be more challenging.
Summative assessment does not have to be an exam. The formative assessment activities that you have built into your design can form an important part of an integrated summative assessment strategy. Rather than a single exam, consider an assessment strategy that consists of four tasks that build up to a final product, for example, each building on the previous one, improving each time based on the feedback you have provided in between.
This site offers some ideas for thinking about alternative assessment strategies that might suit your context.
Use feedback to build communication and collaboration into assessment
Feedback is probably the most important aspect of assessment in any teaching and learning situation. Feedback can help a student to feel more 'present' in a course, and to feel the presence of others more strongly.
Provide feedback that is useful, timely and helps a student to reflect and assess themselves, and is useful for improvement. Encourage students to reflect on each others' work by inviting comment or asking a question in a chat forum or WhatsApp group, or by sharing their work and requesting an evaluation against agreed criteria. The University of British Columbia in Canada has developed a series of workshops for online teaching. They talk about what makes feedback effective and describe ideas for communicating feedback online. For a useful article  giving ideas about the nature and extent of constructive feedback, go to the OER Africa website.
Additional Resources
For alternative assessment ideas in higher education:
---
Access more of our recent content below:
What's New
As readers will know, OER Africa is a strong proponent of open educational resources (OER) and open licensing. Creative Commons licences are the ones most frequently used when OER content is produced. There are six of them, which range from very permissive, allowing copying and modification (CC BY), to those that are more restrictive, permitting distribution of a work in its original form, but no modification (CC BY-ND).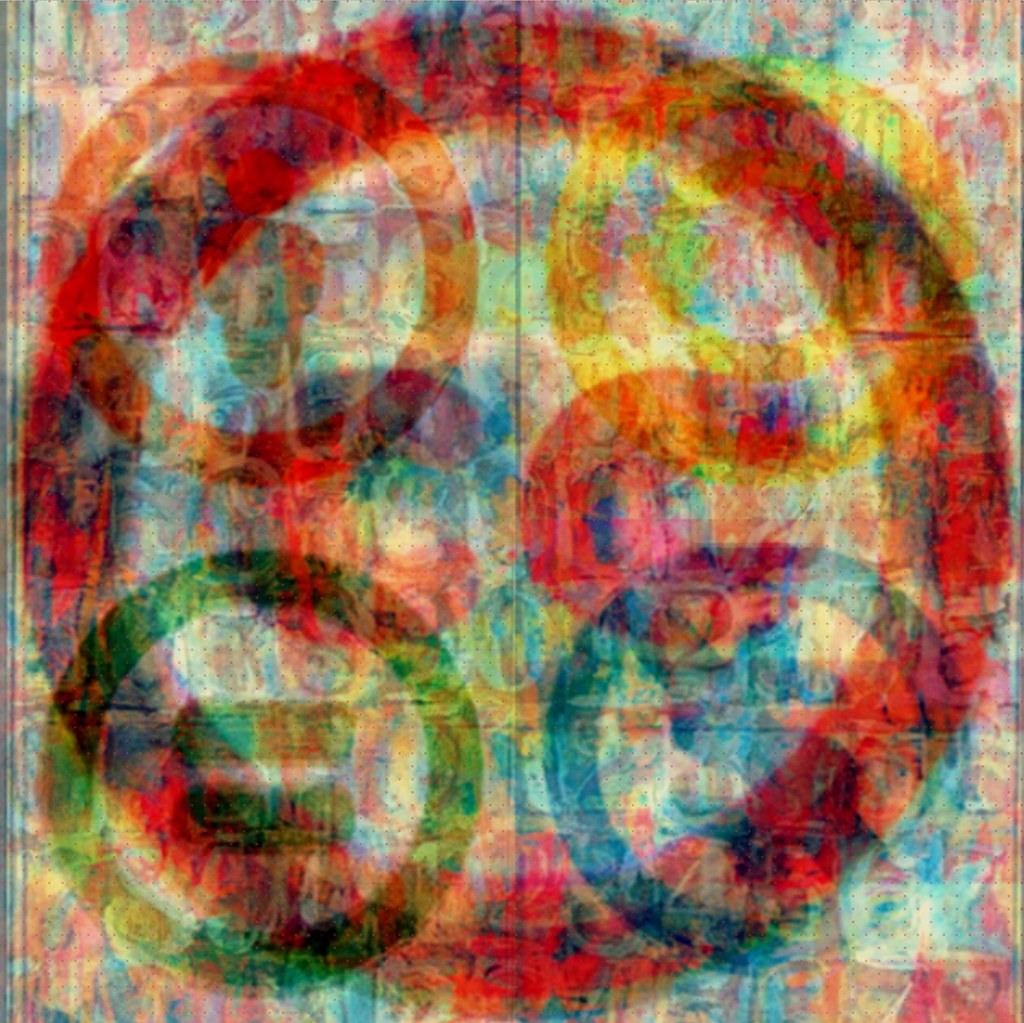 Image courtesy of qthomasbower, CC-BY-SA 2.0
As readers will know, OER Africa is a strong proponent of open educational resources (OER) and open licensing. Creative Commons licences are the ones most frequently used when OER content is produced. There are six of them, which range from very permissive, allowing copying and modification (CC BY), to those that are more restrictive, permitting distribution of a work in its original form, but no modification (CC BY-ND). Users need not request permission to use resources with a CC licence, but the terms of each licence must be met. For more information on CC licensing, go to the OER Africa tutorial on Finding Open Content.
Creative Commons and other organisations discuss OER in the context of five key points called the five Rs – reuse, retain, revise, remix, and redistribute.[1] Retain, reuse, and redistribute mean that users have the right to download, distribute, and keep the content without requesting permission from the resource creator. Revise and remix mean that the user may change the content in some way without asking permission. As an example, the stories on African Storybook and Storyweaver can be reused, retained, revised, remixed, and redistributed. At the tertiary level, all OER Africa content carries a CC BY licence. Go to the OER Africa tutorial on Adapting Open Content for more information on the five Rs.
Although many OER proponents argue that all five Rs are required in an open licence for a resource to be considered truly open, some organisations have opted for more restrictive licences. Two African award-winning early literacy NGOs – Ubongo, headquartered in Dar es Salaam, and the Molteno Institute for Language and Literacy (MILL), based in Johannesburg – have each decided to permit three Rs, but not to allow remixing or revision. MILL limits its resources to a non-commercial and non-derivative (CC BY-NC-ND) licence so that the methodology of its Vula Bula literacy materials can be retained. Ubongo uses the same licences for much the same reason; it does not wish its strict quality assurance methods to be compromised in any way through someone else's adaptation. 
The experience of Ubongo and other organisations with different kinds of CC licences is discussed in Closed or open? Ubongo's switch from copyright protected to Creative Commons licensing.
In many countries, the high cost of textbooks and financial burdens placed on students have led initiatives to write and publish openly licensed textbooks. Siyavula, a South African NGO, produces open textbooks in mathematics and science in English and Afrikaans that are aligned to the South African curriculum as set by the Department of Basic Education (DBE). It licenses some versions of its textbooks only as CC BY-ND, while others carry a CC BY licence. Textbooks that feature a DBE logo are branded with a CC NY-ND licence to prevent any changes without permission, while the logo does not appear in the CC BY version. The ones in the latter category are downloadable in ePUB format to allow for easy adaptation.
Figure 1 Siyavula textbooks are available in PDF or ePUB formats depending on the licensing conditions.

Licence type is an important consideration, but file format is equally significant. By way of example, text document formats such as Word or ePUB files are relatively easy to edit if you have the required software, but their PDF equivalents are not. In addition, video can be particularly challenging to adapt, even if it is legally permissible. Khan Academy (KA) videos are a case in point. KA offers most of its videos with a CC BY-NC-SA licence, which allows for changes in content or language. But adaptation requires software and skills that many educators do not possess.
Thus, OER content creators should consider both the most appropriate licence to apply to their work and the format in which it will be released. In 2015, the University of Cape Town published a three-step guide for academics on open licensing, which includes a discussion of content creator intentions, institutional policy frameworks, and selecting and application of licences.
Figure 2 All resources must be atttributed to the content creator.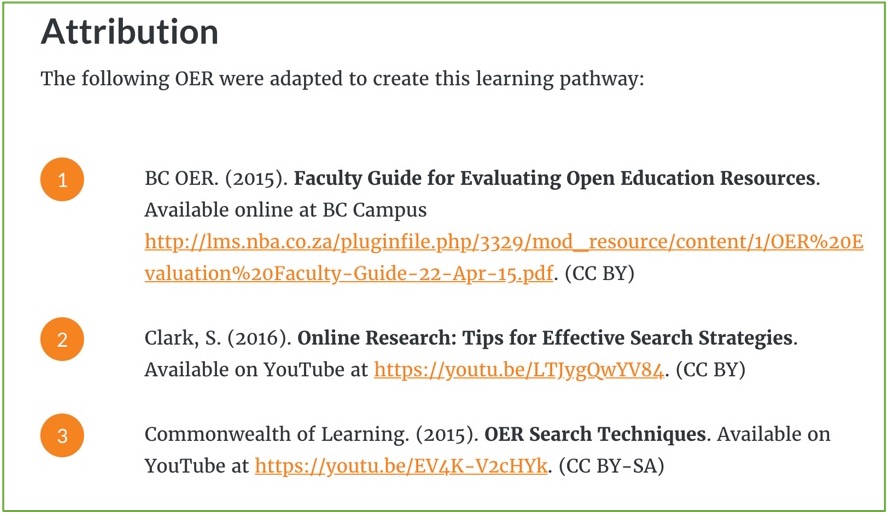 Finally, OER content creators must correctly attribute every resource they use while producing their OER. The figure above shows the attribution page of OER Africa's learning pathway on finding open content. Note that each resource includes information on the licence used.
In conclusion, while the meaning of openness can relatively easily be defined, working out aspects of openness that are most suitable to implement for different kinds of resources is a process that will be strongly influenced by the wider context in which these decisions are being taken. Some organisations want to maximise distribution but are reluctant to permit adaptation of their resources because of potential problems this might create. Others have no objection to their resources being adapted, but those resources are in a format that cannot be easily revised. Still other organisations are unwilling for their content to be reproduced and monetised by commercial publishers, either for ethical reasons or because it might jeopardise their own financial sustainability. This suggests that we need flexible, less prescriptive definitions of OER that will remain relevant for different contexts and needs and that allow people and organisations to move towards greater degrees of openness in ways that work best for them.
---
Open Education has the potential to make education more accessible, enable the creation of relevant teaching and learning materials, improve the quality of content, and empower learners to be critical thinkers and knowledge creators. Open Education Week (OE Week), held annually, is an opportunity for actively sharing and learning about the latest achievements in Open Education worldwide.
Open Education has the potential to make education more accessible, enable the creation of relevant teaching and learning materials, improve the quality of content, and empower learners to be critical thinkers and knowledge creators. Open Education Week (OE Week), held annually, is an opportunity for actively sharing and learning about the latest achievements in Open Education worldwide. OE Week provides practitioners, educators, and students with an opportunity to gain a greater understanding of open educational practices and be inspired by the OE community. OE Week will be held from 1-5 March 2021.
The term 'Open Education' is often used when discussing open educational resources (OER). However the term more broadly refers to a commitment to remove unnecessary barriers to access learning while seeking to ensure high quality educational experiences that will enable success both during and after studies. This commitment includes developing policies and practices of openness in entry requirements (with minimal or no restriction on qualifications), choice of courses, place of study and time, and so on. An open education approach can inform practice in face-to-face education, distance education, and online and blended learning.[1]
Open Education incorporates the key principle of learner-centredness. The learner should be the focus of the educational process and should be regarded as an active participant in an interactive engagement. Cognisance needs to be taken of the learner context, building on their experience wherever possible. Open Education should encourage independent and critical thinking. This is facilitated by regarding the learner as an active participant in the educational process and can be further enhanced by offering learners choices, possibilities, and contesting viewpoints within that process. Teaching independent and critical thinking empowers learners to be able to interact confidently and effectively within society.
Click 
here
 to learn more about Open practices, trends and opportunities in higher education in Africa.
Lifelong learning is central to openness. Learning should continue throughout life, rather than being limited to childhood and teenage years, and should be of direct relevance to the needs and life experience of learners. The concept of lifelong learning implies an acknowledgement of the reality that learning is a process in which all people are inevitably involved from birth until death and a consequent attempt to make structured educational opportunities available to people throughout their lives.
Education has become far more accessible to more people through the innovations introduced by Information and Communication Technology (ICT). While ICT has created many new possibilities for reaching learners, it also creates new barriers to access for many. Although online learning can accommodate different ways and styles of learning (making for greater accessibility) and enable the construction of a richer learning environment, all learners potentially face barriers to learning. These barriers may include the high cost of Internet access and technology, technical constraints in the use of technology, a shortage of appropriate resources (in the local language or context), or content that is not designed to be accessible to learners with disabilities.
Harnessing technology and online learning methods can provide access to education for those in remote areas, for the socially disadvantaged, and for the marginalised. If carefully implemented, Open Education can play a potentially important role in achieving the Sustainable Development Goals (SDGs) and enabling lifelong learning. Of course, effective learning design is critical and recognises that people learn differently and require learning resources that are related to their needs and circumstances.
The 
FLOE Handbook
 can guide teachers and content creators to develop more inclusive and accessible educational resources.
An important element of openness is licensing. Legal frameworks such as Creative Commons help to govern how open a resource is. These licences provide mechanisms to ensure that authors of materials can retain acknowledgement for their work while allowing it to be shared, can restrict commercial activity, and can aim to prevent people from adapting it if they so wish. Open licensing creates possibilities for teachers and learners to access teaching and learning materials that they may not otherwise have been able to access. While e-books for the academic market are becoming more widely available, especially since the COVID-19 pandemic, unaffordable prices, an inability to buy e-books due to a refusal to sell or bundling of titles in packages, and restrictions on research copying are affecting coursework and research in universities. In the UK, libraries say they have struggled with high e-book prices and lack of availability for years, but this situation is now critical because students urgently need digital resources during the pandemic. Follow the hashtag #eBookSOS for more.
Using and creating OER encourages collaboration, so educators are able to share teaching practices and benefit from the ideas of others. Effective OER practices have the potential to improve the quality and reduce the costs of educational materials. This opens the possibility of making previously expensive materials affordably accessible to many. This is one potential solution to the challenges facing learners and teachers in Africa and across the world.
The Commonwealth of Learning (COL) has created 
guidelines and a resource list
 for institutions to keep the doors of learning open during the COIVID-19 pandemic.
The fundamental principles underlying OER are the freedom to share knowledge and that the knowledge should be legally, socially, and technologically open. OER promote the creation and adaptation of content for different contexts. This is particularly important in Africa as it is the least visible continent online, despite accommodating a population of over a billion people. Content used in Africa is not always created by Africans. By using OER, learners and teachers in Africa are able to find, adapt, and create open content that is tailored to their needs, inclusive, and reflects the local context.
OER Africa has developed a series of 
learning pathways
 for university academic staff that will enable them to improve their teaching and learning capacity using OER.
If you are interested in engaging in Open Education practices and networking with colleagues, there are a few ways to participate in OE Week. You can host an event, share OER, or attend activities hosted by others. For more information click here. 
Remember all the resources on the OER Africa website are free to use and share. Let us know what you are doing to celebrate OE Week. Tag @OERAfrica in your social media posts and use #OEWeek. 
---
Are you looking to interact with people who are interested in Open Education Resources (OER)? Do you have ideas that you want to share with a wider audience and learn more about OER? A Community of Practice (CoP) might be the right place for you.
The term 'Community of Practice' was created by Etienne Wenger, who offers a social theory of learning – a school of thought that proposes that humans can acquire new ideas and behaviours by observing others.
Image courtesy of rawpixel.com via Freepik
What is a Community of Practice?
Are you looking to interact with people who are interested in Open Education Resources (OER)? Do you have ideas that you want to share with a wider audience and learn more about OER?  A Community of Practice (CoP) might be the right place for you.
The term 'Community of Practice' was created by Etienne Wenger, who offers a social theory of learning – a school of thought that proposes that humans can acquire new ideas and behaviours by observing others. The term has been used in various ways, and usually refers to informal networks that support people to develop shared meaning and engage in knowledge building.[1] A CoP is a group of individuals who share a domain of interest, which they use as a basis for interaction. Members of a CoP for OER might share resources, experiences, problems and solutions, tools, and methodologies. This results in members gaining knowledge from one another and, by extension, contributes to the development of knowledge within the domain of OER and the field of Open Educational Practices (OEPs) more broadly.[2]
A CoP is a great way to conduct advocacy and gain momentum for OER at your institution, within your organisation, or in your social circle. Some CoPs may involve projects like developing an OER strategy or distributing OER grants at an institution, while others may simply be aimed at knowledge sharing.
OER Africa published a report on CoPs, which is accessible here. Parts of this article are based on the report.
According to the report, CoPs have several defining characteristics, as illustrated in the graphic below.
Source: Hoosen, S. (2009). Communities of Practice: A research paper prepared by OER Africa
Important to note is that CoPs can take different forms and they vary across different dimensions; for example, they can be small and tight knit or large and loosely connected. The concept of virtual CoPs has gained increasing popularity as technology and the Internet open opportunities for faster and alternative means of communication with people who are geographically far away from each other. They have also become a very practical means of interacting with people who are interested in a particular subject field since the outbreak of the COVID-19 pandemic and the restrictions it has created on face-to-face interaction and travel.
You can access more resources on CoPs here.
How do I set up a CoP for OER?
The success of a CoP ultimately depends on preparation and involves consideration of a number of key aspects. 
Identify the scope and focus of the CoP for OER: Answer the following questions such as 'What is the value proposition of the CoP?' and 'What will its scope be?'
Build a case for action: Consider the purpose of the CoP and outline key deliverables over the next one to two years, as well as how the CoP will contribute to the OER movement. Think about how the CoP will satisfy members' expectations.
Identify a CoP facilitator: Since relationships are central to one's sense of community, a facilitator is central to creating and maintaining a robust CoP. The facilitator should have sufficient time available to dedicate to the CoP and should be motivated, creative, and knowledgeable about OER. The facilitator will be responsible for organising meetings, maintaining and distributing knowledge resources, and monitoring the effectiveness of the CoP.
Identify potential members and criteria for membership: Consider who the best people are to be part of the CoP. It might be useful to think about how to introduce diversity into the group through broad membership, so that there are wide-ranging perspectives. Depending on the scope of the CoP, you might consider approaching anyone from OER practitioners and advocates to librarians and institutional management.
Highlight the benefits of joining the CoP to potential members: Benefits include faster solutions, reducing duplication of efforts, and enabling people to develop and share new ideas or strategies around OER promotion.
Identify potential knowledge to share: Get community members to identify knowledge that would be useful to share.
Decide on an initial technology platform: The platform/s should enable the group to communicate effectively and store resources. They should be easily accessible to all members.
Consider how the CoP will be governed: Establish clear rules for decision-making and accountability, as well as what resources are available, what the key milestones or deadlines are, and who the stakeholders are, to name a few.
Once you have done the background preparation, you can start planning the official launch of your CoP. At the launch, it is good practice to develop a community charter. Thereafter, the CoP should determine the roles and responsibilities of community members, initiate events and spaces (such as meetings or OER advocacy activities), build a core group to drive the CoP, and find and share knowledge. Once you have passed the initial phase, here are some tips on ensuring that your CoP is effective and sustainable.
How do I find people who are interested in OER?
Struggling to find people who are interested in your preferred subject area? Here are some options for you to consider:
Reach out to your network: It can be surprising how you might share a common interest in OER with people in your network – even if you haven't discussed it with them before. They might even be able to put you in contact with someone they know who is interested in OER or looking to gain knowledge.
Search on LinkedIn: One of the benefits of LinkedIn is that you can search for keywords and come across thought leaders, organisations, different stakeholders, or people with a general interest in OER. You can strike up a conversation by sending a message on LinkedIn.
Do your research: Use a search engine to look for resources and websites with information about OER. Find out who is producing this knowledge and approach them to gauge their interest in being a CoP member. 
Access the links below to see some CoPs for OER, and OEPs more broadly, in action:
Ultimately, developing a CoP for OER is a wonderful way of learning, sharing knowledge, and advocating for OER use. As long as you maintain a clear sense of the scope of your CoP and ensure that all of the CoP's activities contribute to its case for action, it can make a valuable contribution to the OER movement.
---
For more articles in this series, click on the links below.