3: How to find OER
Where do you find OER? There is not an online 'one-stop shop' for OER, no single repository where they are stored. Instead they are scattered across the internet, often stored within institutional repositories or organizational websites. If you are going to use OER, then you need to know how best to search for them and identify where relevant resources for your particular discipline are most likely to be found. In this topic, we will investigate OER search techniques.
Search Techniques
There are a few dedicated web tools designed to find OER.
Dedicated Search Tools
Several search engines exist that are designed to search specifically for OER.
CC Search is a customizable search engine designed and hosted by Creative Commons that offers image, media, video, music, and web content search tools.
OER Commons can be used to find free-to-use teaching and learning content from around the world. It also provides tools to organize high school lessons, and college courses based around core OER. OER Commons also hosts an OER Evaluation Toolkit.
OER Africa has a searchable database that focuses specifically on OER generated by African contributors.
Besides these specialized search tools, you can also use Google's advanced search, which allows the user to adjust the usage rights field to receive results that include only openly licensed resources. If you would like to improve your searching techniques, the Google Power Searching self-paced online courses are recommended, as they provide a quick and effective path to learn new tips and tricks. The example below takes you through the steps required to filter results according to licence.
Google Advanced Search
Google is one of the most commonly used search engines in the world, but did you know you can use Google to find Creative Commons (CC) licensed content? Using Google Advanced Search, you are able to search for CC material by keyword and refine your results to show only material available under certain CC licences.
Step 1: Start a Google Advanced Search.
Access Google's Advanced Search options directly by typing www.google.com/advanced_search into the address bar on your web browser or use the link above.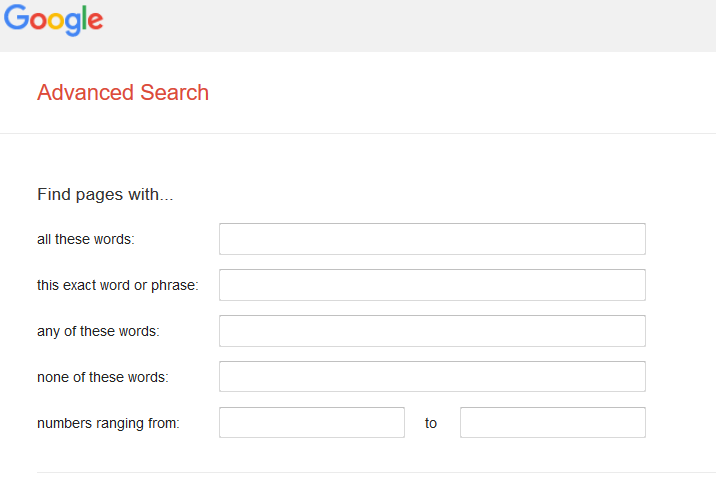 Step 2: Filter results based on what you want to do. By default, Google search results are not filtered by licence. To filter your search results, look for the 'Usage rights' field. It is the last editable item on the page. Select the option from this menu that is appropriate to your needs. All CC licences grant the user the right to use and distribute the licensed content. Therefore, if you select the 'free to use or share' option, your search will return content available under any of the CC licences.
If you restrict the results to material that can be used commercially, you will exclude content under a NonCommercial licence (e.g. Attribution-NonCommercial, Attribution-NonCommercial-Share Alike or Attribution-NonCommercial-No Derivative Works). Likewise, selecting the 'free to use share or modify' option will return results that you can legally remix (i.e. that do not have the No Derivative Works restriction). If you select 'free to use, share or modify, even commercially', you will only return results under the two CC licences that allow both adaptation and commercial use (i.e. Attribution and Attribution-Share Alike).
Step 3: Search for keywords. Enter your keyword in the field at the top of the page and click 'Advanced Search' to begin your search. You can also combine Google's CC search tool with other fields on the Google Advanced search page to refine your search even further. For example, you can search for CC within a site or domain, or in a specific language, or in a specific file format.
Adapted from 'How to find Creative Commons materials using Google for Teachers and Students' CC BY
You can view a video on OER Search Techniques:
Video Summary: OER Search Techniques (9.13 min)
Image source: www.coerll.utexas.edu
Well-known Repositories

The following list identifies useful repositories where you can look for OER. It is worth familiarizing yourself with the different types of OER offered by each repository.
Open Courseware (OCW)
Some well-known institutions that offer open courses are:
Open Repositories with an African Focus
OER Short Courses/Resources
Creative Commons hosts a comprehensive list of repositories for specific resources and media types.

Are these searching tips sufficient for you to have located open educational resources relevant for your discipline? Try out the Power Searching with Google course and/or some of the steps recommended.
Make a list of repositories that you have found most useful for your course areas.