Friday, 13th December 2019
OER Africa was very pleased to note that UNESCO OER Recommendation (40 C/32) was adopted at the 40th UNESCO General Conference in Paris on 25th November 2019. The formal Recommendation is yet to be posted online by UNESCO but the text can be found here. Approval of the Recommendation represents a significant recognition of the concept of open educational resources (OER) and its potential in education by governments around the world. While 34 Recommendations have been adopted since UNESCO's inception in 1945, only seven of these pertain to education, so this represents a rare achievement for the OER movement.
OER Africa is proud to have been actively engaged in development of the OER Recommendation. Although the origins of the process may be said to date back to when the term was first coined was first coined in 2002 at UNESCO's Forum on the Impact of Open Courseware for Higher Education in Developing Countries, the first meaningful effort to achieve consensus over global positions on OER took place at the
first World OER Congress
in Paris in 2012, which led to adoption at the Congress of the
Paris OER Declaration 2012
. OER Africa participated actively in the work leading up to this Declaration, conducting research on the
status of government OER policies
, participating in regional workshops leading up to the Congress, and helping with drafting of the Declaration. As the UNESCO website notes, 'the Declaration marks a historic moment in the growing movement for Open Educational Resources and calls on governments worldwide to openly license publicly funded educational materials for public use'. However, as a Congress Declaration, it has no official status as a UNESCO document.
This Congress initiated development of a
first draft
of the UNESCO OER Recommendation for public consultation, with OER Africa having participated in the drafting of this document at a special meeting of experts that took place alongside the UNESCO Mobile Learning Week in 2018. Following receipt of public comments, a second expert meeting took place alongside Mobile Learning Week in 2019, in which OER Africa again participated actively, which culminated in publication of the
first official draft
of the UNESCO OER Recommendation in April, 2019. As UNESCO Recommendations are ultimately inter-governmental agreements, this version was circulated to governments for their comments and discussed at an Intergovernmental Meeting for the Draft Recommendation in Paris in May 2019, to which all member states of UNESCO were invited and 150 delegates from 100 countries participated. OER Africa was able to attend and contribute to the meeting as an invited expert observer, though UNESCO procedures require that changes to a draft Recommendation can only be made with agreement by all member state representatives.
At the May 2019 meeting, the final text of the OER Recommendation was approved by consensus by all Member States and thereafter prepared for formal submission to the 4th UNESCO General Conference in November, 2019, where it was adopted. As the UNESCO website notes, 
'Recommendations are instruments in which 'the General Conference formulates principles and norms for the international regulation of any particular question and invites Member States to take whatever legislative or other steps may be required in conformity with the constitutional practice of each State and the nature of the question under consideration to apply the principles and norms aforesaid within their respective territories' (Article 1 (b)). These are therefore norms which are not subject to ratification but which Member States are invited to apply. Emanating from the Organization's supreme governing body and hence possessing great authority, recommendations are intended to influence the development of national laws and practices.'
Thus, while not legally binding, Recommendations are important documents within UNESCO and member states are obliged to report to the General Conference on their progress in implementing them. Given this, adoption of the OER Recommendation is a major achievement and one which OER Africa is proud to have contributed.
Since the Recommendation was approved, there have inevitably been some criticisms of the final text that was adopted (see, for example, critiques by
David Wiley
and
Stephen Downes
). These critiques tend to focus on compromises that were made during the drafting process of the Recommendation that may have the consequence of allowing some 'closed' practices to creep into implementation of the Recommendation by governments. While there is technical validity to these critiques, our view at OER Africa is that the OER Recommendation is important for the spirit of what it encourages governments to do, rather than in its specific technical details. As Recommendations are not legally binding on states, those governments that wish to undermine that spirit are more likely to do so by ignoring the OER Recommendation than by seeking to subvert its intent. And the compromises made were an essential part of the process of securing the necessary consensus to adoption of the final OER Recommendation (as we saw clearly during the Intergovernmental Meeting in May, 2019 where the final text was agreed). Consequently, as OER Africa, we believe that these technical limitations are relatively minor in the overall movement towards openness that adoption of the UNESCO OER Recommendation represents. Thus, we are excited to continue our work, and to continue supporting UNESCO and its government in implementing their work, in our joint efforts to harness open licensing to improve access to high quality education for all Africans.
What's New
A few years ago, Massive Open Online Courses (MOOCs) were touted as "the next big thing". They have developed since then and are part of the current education landscape. Who are they aimed at? Can university faculty members take an existing MOOC and use it in their own courses? How open are MOOCs? Where can you find them?

Image courtesy of Mathieu Plourde, Wikimedia Commons
What are MOOCs?
A few years ago, Massive Open Online Courses (MOOCs) were touted as "the next big thing". They have developed since then and are part of the current education landscape. Who are they aimed at? Can university faculty members take an existing MOOC and use it in their own courses? How open are MOOCs? Where can you find them?
A MOOC is a course (teaching a specific subject or topic) available online via the Internet, aimed at unlimited participation (hence massive) and open in so far as anyone can enrol (no formal admission process and normally no charge). They are produced by universities, companies (Microsoft, Linux, Canvas, Blackboard) and non-profit initiatives (edX), and are aimed at anyone who wishes to learn about the subjects covered. Most MOOCs are distributed via course providers such as Coursera and Udacity. The extent to which they are considered 'open' has changed over time, but also depends on how they are presented online. When they first emerged, MOOCs were typically open in two ways: in enrolment and the fact that their constituent materials were openly licensed. By about 2012, many MOOCs no longer had openly licensed materials available, so their open-ness had diminished (Vollmer, 2012). As most MOOCs available now are not openly licensed, you cannot simply take one (or part of it) and use it in your own course. We suggest other ways in which you might use MOOCs below.
In a previous post, we discussed OpenCourseWare (OCW) as a 'subset' of Open Educational Resources (OER). We contrasted OCW with MOOCs, and here we provide a table showing the differences between these two educational tools:

Adapted from Martinez, 2014
A common criticism of MOOCs is their very low completion rate: often as low as 5 to 15%. Critics suggest that such a low rate indicates that learning from MOOCs is usually minimal. However, some specialists are beginning to refer to MOOCs as one of many forms of digital content, proposing that they should be compared with podcasts or educational news sites on the Internet instead of facilitated educational experiences similar to university courses (Ahearn, 2018). Other educationists note that MOOCs could help to widen global access to higher education, but they need careful research to assess the learning experiences that MOOCs can offer (Laurillard & Kennedy, 2017).
How can academic staff best use MOOCs?
Despite being not fully open, university academics can still make use of MOOCs as part of an interactive mix of educational experiences. They can be useful in various ways:
As professional development for you: you might find that enrolling on a MOOC provides you with recent developments in your own field, which you can later incorporate into your courses.
As a refresher for your own courses: High quality MOOCs often include recent research or cover topics in innovative ways. By enrolling on a MOOC, you can rethink your own courses, making them more relevant and enriching for your students.
As a supplement to student learning: You can review MOOCs in your subject areas, and encourage your students to enrol, even if it's only for a section of the course. You can get them to engage fully and critique the MOOC as part of the learning experience.
The open access article Twelve tips for integrating massive open online course content into classroom teaching suggests various innovative ways in which you might incorporate MOOCs into your teaching.
Where can you find MOOCs?
MOOCs in English are produced mostly by universities in the US, Europe, and Australia. They can be found on some university websites, but the better place to search is through course providers, which collaborate with universities and other organisations. These providers are now marketing themselves as online learning platforms, and some of them charge for the courses – this is another way in which the open-ness of MOOCs has changed. Examples of such platforms are Coursera, edX, and Udacity. If you want to find a MOOC relevant to one of your own courses, the best way is to use a browser and enter "MOOCs in <subject>". You can then choose from your search results to examine them further.
Relatively few universities in Africa run MOOCs. Exceptions to this include the University of Cape Town, University of the Witwatersrand, and the African Leadership Institution. More institutions are likely to run courses as MOOCs or using online learning platforms in the future. The OER Africa website hosts some MOOC-related resources, such as:
In summary, MOOCs appear to have become less open since their original inception before 2012. They can be used by academics in higher education as a form of professional development, and as a supplement to the courses they offer. MOOCs can also assist students wishing to access courses within higher education that otherwise might not be available to them. 
---
References
Ahearn, A. (2018). Stop Asking About Completion Rates: Better Questions to Ask About MOOCs in 2019. Available online at https://www.edsurge.com/news/2018-11-28-stop-asking-about-completion-rates-better-questions-to-ask-about-moocs-in-2019
de Jong, P., Pickering, J., Hendriks, R., Swinnerton, B., Goshtasbpour, F. & Reinders, M. (2020) Twelve tips for integrating massive open online course content into classroom teaching, Medical Teacher, 42:4, 393-397, DOI: 10.1080/0142159X.2019.1571569 (Open Access)
Laurillard, D., & Kennedy, E. (2017). The potential of MOOCs for learning at scale in the Global South. Centre for Global Higher Education, working paper series, Lancaster, UK, 42. 
Martinez, S. (2014). OCW (OpenCourseWare) and MOOC (Open Course Where?). In Proceedings of OpenCourseWare Consortium Global 2014: Open Education for a Multicultural World.
Vollmer, T. (2012). Keeping MOOCs Open. Available online at https://creativecommons.org/2012/11/01/keeping-moocs-open/
---
For more articles in this series, click on the links below.
You have been teaching, but what have you been assessing? Can assessment also be about teaching? How do you know students have learned? It is easy to forget that instead of being separate processes, teaching and assessment have a close relationship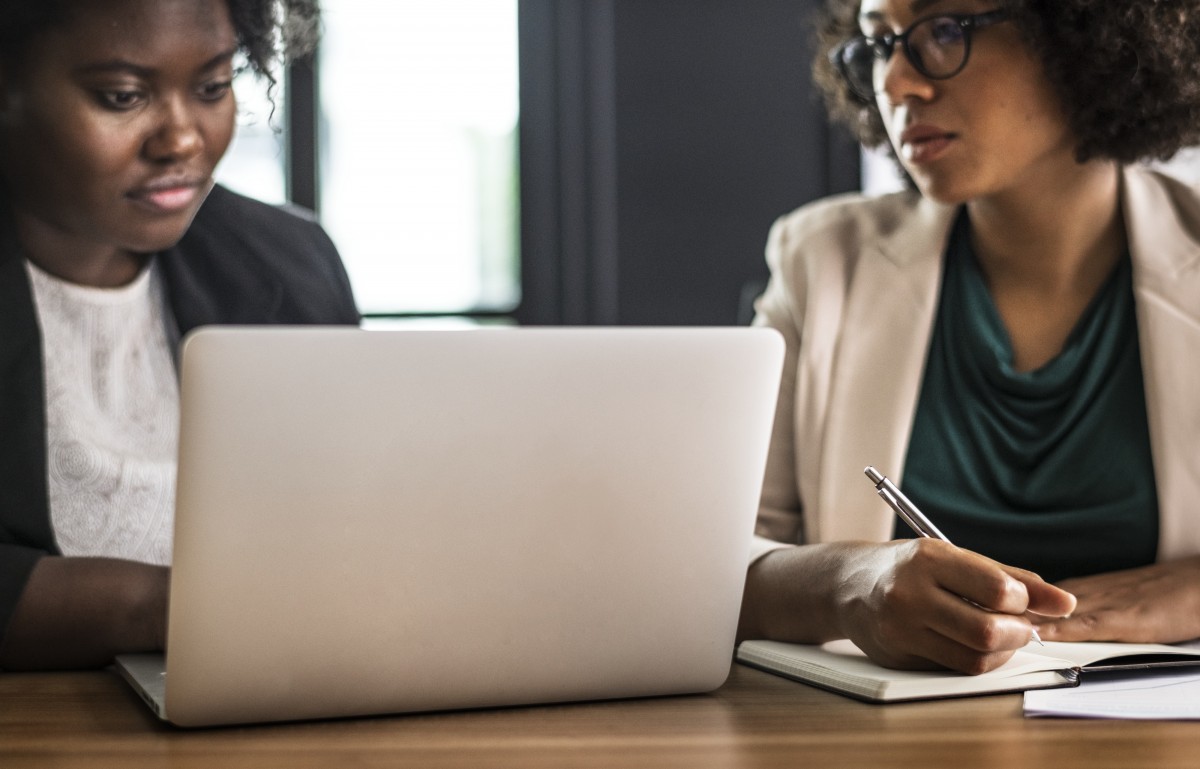 Image courtesy of CC-0 Source: pxhere.com
You have been teaching, but what have you been assessing? Can assessment also be about teaching? How do you know students have learned?
It is easy to forget that instead of being separate processes, teaching and assessment have a close relationship – they complement one another and comprise a holistic educational process. COVID-19 has prompted an increase in online interactions with our students. As a result, many educators have had to adjust their teaching and assessment strategies. In this article, we explore online activity-based assessment to support teaching and learning.
Assessment and Feedback
Perhaps one of the most challenging aspects of distance learning and emergency remote teaching during COVID-19 has been the aspect of assessment. In addition to putting your course materials online, you may have been anxious to confirm what students know, and demonstrate whether or not they have met curriculum outcomes. In other words your focus may have been on assessment of learning rather than assessment for learning. We have heard of cases, for example, where students have been allowed back onto campus to do exams, with little or no support for learning in preparation for those exams. It is certainly not fair, reliable, or valid assessment practice to expect students to come and write an exam when they have not had the opportunity and support to work through the activities and content leading up to that exam. Some institutions have managed to implement some form of online learning. Often, however, this has taken the form of asking students to read a textbook and submit an assignment. This is not necessarily very helpful for students struggling in this environment.  
If learning is reduced and less meaningful, what are you assessing?
Stop worrying about testing and start thinking about learning
In a post on Inside Higher Ed, in response to the pandemic, Jody Greene writes:
'By attempting to replicate in-person assessments in online settings, we fail to recognize that a change of medium may require a change of design. Especially if your instruction is interrupted close to the time of finals … don't immediately jump to the conclusion that you can or should just "put the final exam online." Sorting students and rigorously determining what deserves an A-minus as opposed to a B-plus may not be the most urgent business in the face of a global pandemic. … Think outside the parameters of your original assessments and ask the question, what can we do here that keeps learning happening? What if our first priority in an emergency is not completing testing but giving an opportunity for students to integrate and demonstrate their learning? ... Consult your campus disability resource center to make sure you maintain accessibility and equity.'
Challenge yourself to think about assessment differently. But how do you do that? There are two important considerations.
Learning is more important than assessing in this context.
Students need support and feedback
Support Learning
Give students something meaningful to do, preferably supported by communication with their peers and yourself as educator. Primarily the challenge is to find ways of introducing activities into the design of your materials. Rather than just reading text books, lecture notes, and PowerPoint presentations, ask students to critically engage with a reading, analyse case studies, create diagrams, tables or summaries, or conduct observations and interviews.
Students can also support each other. Encourage them to set up their own study groups, if necessary via WhatsApp or email. Build some kind of collaboration into the activities you set, creating and sharing the products of their studies, reflecting together and giving each other feedback.
Be there for students. Write your voice into the materials and engage in a written conversation with them. Ask questions and challenge students to respond in a variety of ways. Try to set times when students can contact you to ask questions and feel your presence, and clarify how they should do so. If you ask them to send you WhatsApp messages, make sure the messages come through, if you give them the option to email make sure you respond to the emails within the agreed turnaround time. It is frustrating for students to send messages or emails to which they never get responses.
Understand the value of formative assessment
Usually the focus is on summative assessment. This often takes the form of an assignment or a written exam after students have completed a section of work. Traditional summative assignments may be more challenging for online students, particularly. Online learning and assessment require more self-direction and self-motivation. Many students are still developing skills like time management. Most institutions have a Learning Management System (LMS), but, if your students only have intermittent access to the internet, they will not necessarily be able to do assessments online on your institution's LMS.
Formative assessment is an activity, or set of activities, designed to support and enhance learning. It requires ongoing feedback to allow students to see their mistakes and fix them with guidance. This supports cognitive development. Once you have integrated activities into students' learning, you have already begun to shift the focus to more formative kinds of assessment. An activity such as a quiz can be designed in a way that students engage with a base reading, do the quiz alone, and then compare their thinking with the feedback you provide. Provide written commentary on the activities against which students can check their own understanding. This can be followed up with a conversation between students about their responses. In this way, there is individual study, self-assessment, peer collaboration and formative assessment all built into one activity. This is learning and assessment.
As an exercise for yourself, consider each of the following statements. Are they true or false, in your view?
Note: Scroll down within the block below to complete all eight questions
All these strategies encourage communication, negotiation, and collaboration. Students use feedback they receive on their formative assessments to understand how well they have learned and where they need to focus to prepare for summative assessments. They are also motivated to continue engaging with the course.
Consider integrated summative assessment
In a context where students are not face to face with you or each other, and do not have a reliable connection to the internet, traditional summative assessments can be more challenging.
Summative assessment does not have to be an exam. The formative assessment activities that you have built into your design can form an important part of an integrated summative assessment strategy. Rather than a single exam, consider an assessment strategy that consists of four tasks that build up to a final product, for example, each building on the previous one, improving each time based on the feedback you have provided in between.
This site offers some ideas for thinking about alternative assessment strategies that might suit your context.
Use feedback to build communication and collaboration into assessment
Feedback is probably the most important aspect of assessment in any teaching and learning situation. Feedback can help a student to feel more 'present' in a course, and to feel the presence of others more strongly.
Provide feedback that is useful, timely and helps a student to reflect and assess themselves, and is useful for improvement. Encourage students to reflect on each others' work by inviting comment or asking a question in a chat forum or WhatsApp group, or by sharing their work and requesting an evaluation against agreed criteria. The University of British Columbia in Canada has developed a series of workshops for online teaching. They talk about what makes feedback effective and describe ideas for communicating feedback online. For a useful article  giving ideas about the nature and extent of constructive feedback, go to the OER Africa website.
Additional Resources
For alternative assessment ideas in higher education:
---
Access more of our recent content below:
UNESCO recently hosted a set of worldwide public consultations from 22-24 July 2020, the aim being to expand and consolidate commitments to actions and strategies as well as reinforce international cooperation among all stakeholders. As we noted in a recent blog post, OER Africa provided support to UNESCO Dynamic Coalition Working Group Consultation on the OER Recommendation.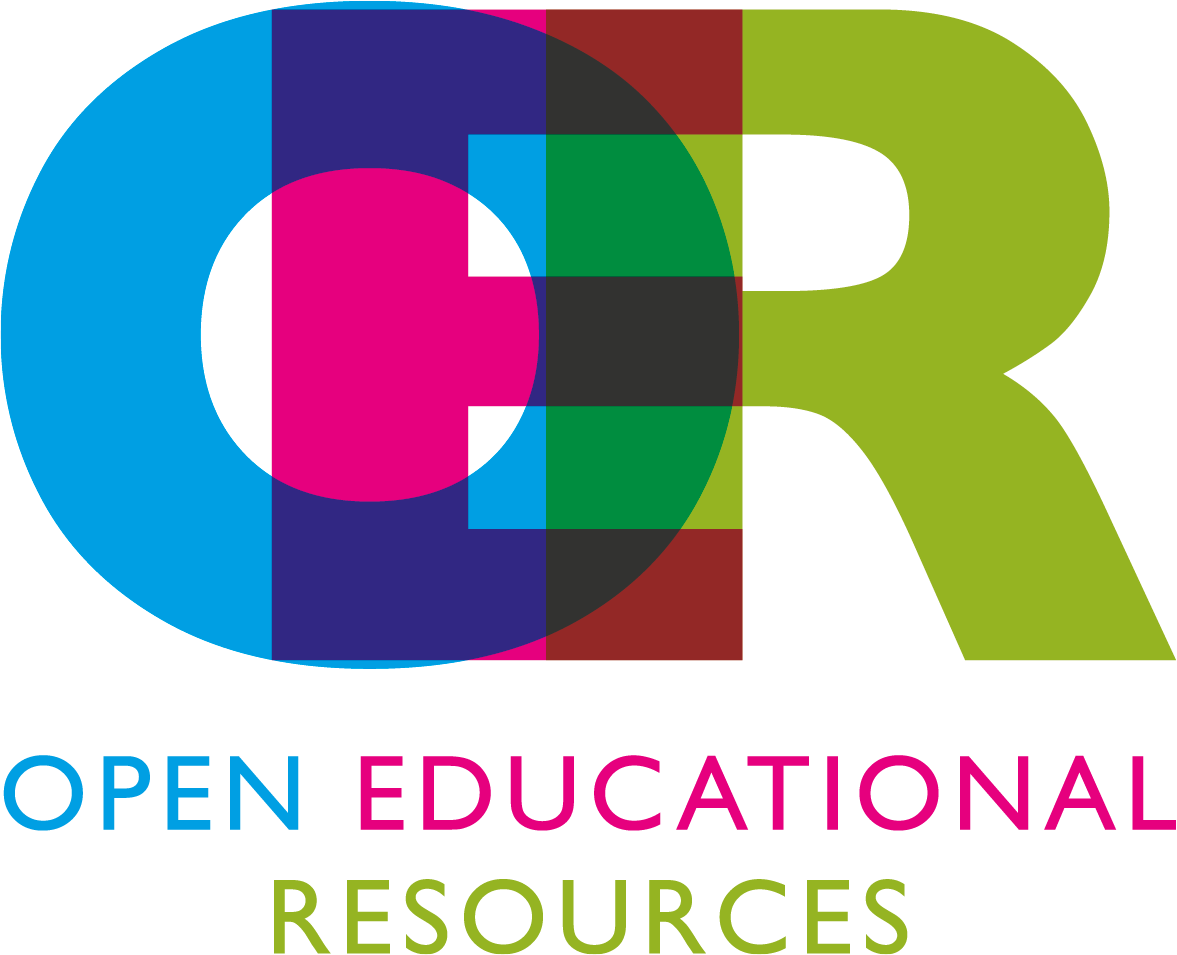 Image courtesy of Markus Büsges Wikimedia Deutschland.
UNESCO recently hosted a set of worldwide public consultations from 22-24 July 2020, the aim being to expand and consolidate commitments to actions and strategies as well as reinforce international cooperation among all stakeholders. As we noted in a recent blog post, OER Africa provided support to UNESCO Dynamic Coalition Working Group Consultation on the OER Recommendation. We are pleased to report that the final report from those consultation sessions is now available for download here. That report also summarizes data collected through the online surveys that led up to the consultation sessions.
The purpose of the three-day consultation process was to:
Further clarify the priority areas of action per Working Group
Identify activities and issues related to the establishment of an electronic tool for information sharing and collaboration on the activities of participating organizations.
The consultations provided a platform for rich conversation between a diverse group of participants. Thanks to the efforts of the organizers, facilitators and participants, valuable insights were collected across all four thematic Working Groups, as well as for the themes of the transversal Working Groups, as illustrated below.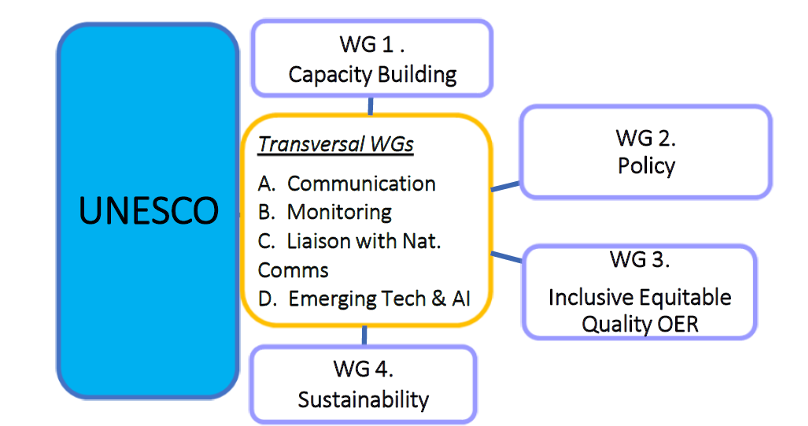 While highlighting pertinent challenges and lessons, the discussions also provided insight into the countless OER-related activities occurring around the world. This speaks to the multifaceted network of individuals, Member States, organizations, institutions, and other stakeholders who can draw from one another in advancing the goals of the UNESCO OER Recommendation.
Notwithstanding challenges in connecting across time zones, the consultations illustrated that there is a strong network of people and organizations keen to support UNESCO in ensuring success in adoption of the OER Recommendation by Member States. Likewise, consultations yielded information on many resources and portals available online that can be harnessed by both Member States and institutions seeking to give practical expression to the OER Recommendation. It was heartening to see how much the OER Community has grown and how this has translated into growing access to openly accessibly resources. A major challenge here, though, remains a need to have materials available in a variety of languages other than English, although there are encouraging signs of diversification over time.
The highest priority moving forward will be to make strong connections with Member States to support their efforts to operationalize the OER Recommendation at national level. Across all Working Group areas and particularly in the Dynamic Coalition Communication Strategy, it will be important to focus on reaching out to and building working relationships with OER champions in government.
Linked to the above, effective communication will be critical to taking forward the OER Recommendation and the work of the Dynamic Coalition. Consequently, the Dynamic Coalition is considering how to develop an electronic tool which will be a means:
For the community to communicate with one another within and across projects;
To provide public information on the Coalition's activities; and
For stakeholders to collaborate on common projects and activities.
At OER Africa, we are proud to be supporting the work of UNESCO's Dynamic Coalition and excited to see the process moving forward. We look forward to more widespread operationalization of the OER Recommendation at national and institutional levels over the coming years as these efforts start to bear fruit.
---
Access more of our recent content below: